What is Laser Hair Removal for Men and How Does it Work?
Posted by Dermaworld
06 October 2020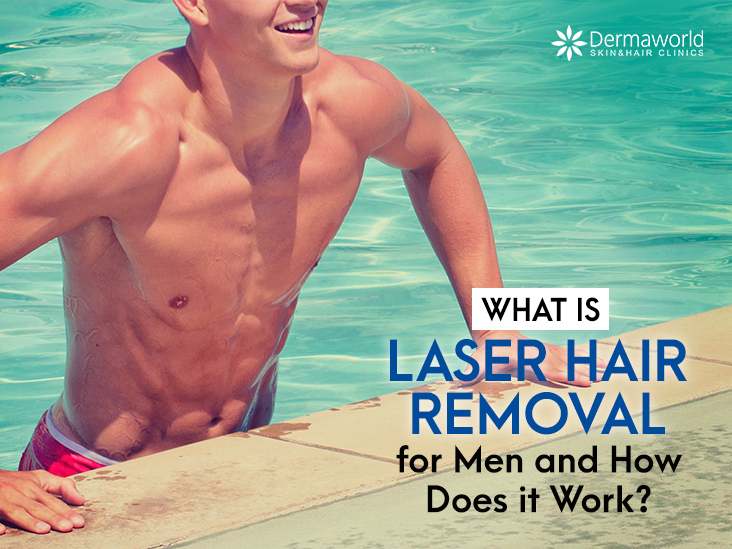 Laser Hair Removal is one of the safest and effective methods to get rid of unwanted body hair. This advanced method of hair removal has drifted many people away from the traditional method of hair removal like waxing, shaving, hair removal creams etc. Lasers work best to remove unwanted hair and provide long-lasting results. Facial grooming is an important part of male appearance. Laser hair removal is a reliable solution that saves time and money spent on visiting the salon at regular intervals. With the help of advanced lasers, one can also get rid of ingrown hair, a common problem experienced after waxing or shaving.
Dr. Rohit Batra is one of the best dermatologists in India who is applauded for his vast knowledge about lasers. Dr. Rohit Batra's DermaWorld Skin & Hair Clinic has advanced lasers that yield optimum results. So, anyone looking for laser hair removal procedure in Delhi can visit his clinic.
Procedure
In laser hair removal, the laser light energy is penetrated into the hair shaft to burn the hair follicle. For large areas like the back, chest, legs, arms it may take more time as compared to the face, underarms, and bikini area. Generally, one session of the laser takes about 10 minutes to 2 hours approx, depending on the target area. Different technologies have been invented to target different hair types and skin colors. The results of laser hair removal are permanent but these require touch up sessions annually to maintain the results.
Different areas where laser hair removal can be performed
1. Face: The treatment for face has not stayed limited to only females. Men who have too much or unruly facial hair also opt for facial laser hair removal. Laser beard shaping is one of the most popular procedures amongst men. It helps in providing a sharp and well-defined beard line. So, one does not need to pluck out the excess hair daily to look groomed.
2. Stomach: Removing tummy hair with waxing or shaving is painful and needs repetitive sessions. The best option is to go for advanced laser treatment and save time as well as money. Tummy laser hair removal gives successful results and is considered much safer than the other methods available for hair removal.
3. Chest: Some men prefer a smooth, hairless chest while some wish to have thinner chest hair. Laser hair removal is a personalized treatment that removes unwanted chest hair. With repeated sessions the hair growth is almost nil. The new hair that may grow will be very fine. So, the procedure of laser chest hair removal for men is quite satisfactory. This treatment takes less than an hour.
4. Back: Men who are in the glamour industry or are gymaholics often seek back laser hair removal treatment. Excess hair on the back may make them feel conscious and prevent from flaunting their physique. Laser helps them to get rid of fuzzy back hair and attain hair-free, smooth skin.
Laser hair removal for males must be performed by well-trained medical professionals. At Dr. Rohit Batra's DermaWorld Skin & Hair Clinic, we have a team of highly trained and experienced laser specialists. This is a world-class center in providing laser and aesthetic skin care treatments. This clinic is committed to offering quality care in a warm and friendly environment. The advanced treatments provided by the dermatologists enhance self-confidence and provide optimum results.
Book Your Appointment Now!