Why is Laser Hair Removal Treatment more Popular than Electrolysis?
Posted by Dermaworld
10 November 2020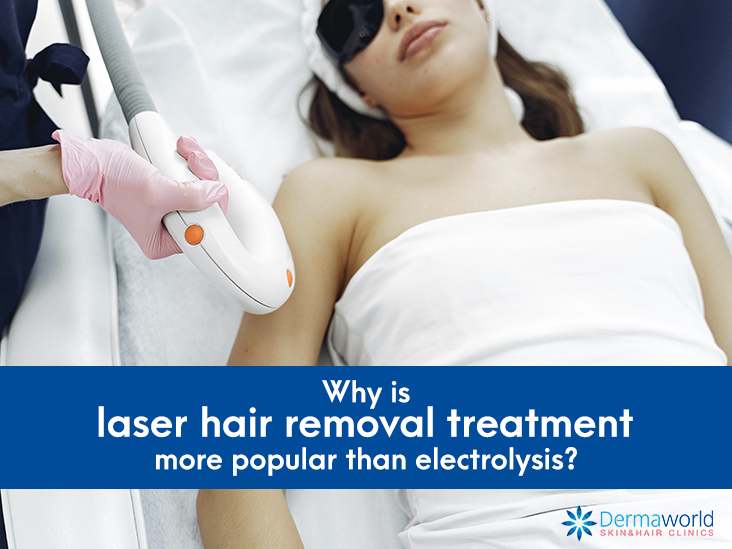 Unwanted body hair can be hard to get rid of and maintain. The modern technology of laser hair removal has made hair removal easier. Laser hair removal is an effective and safe method of removing unwanted body hair using suitable laser energy or frequency. Electrolysis is another type of hair removal procedure that disrupts hair growth using shortwave radio frequencies instead of laser light. Laser hair removal is one of the most common cosmetic procedures that damages hair follicles and prevents further hair growth. Laser hair removal treatment is more popular than electrolysis because it has multiple benefits. Laser hair removal treatment is more quick, reliable, and less painful treatment, and provides an individual with the desired results.
What is Laser Hair Removal?
Laser hair removal is an effective and safe method of removing unwanted body hair using laser energy. This energy prevents the further growth of new hair follicles as the lasers of different wavelengths penetrate the skin and damage the melanin pigment present within the hair follicle. This increases the temperature inside the follicle and destroys the root of the hair. The best thing about this treatment is that the surrounding skin and tissues remain intact and undamaged.
What is electrolysis?
Electrolysis is also a hair removal technique that uses tiny needles with an electric current to damage the hair follicles and prevents new hair growth. One may need multiple electrolysis sessions to achieve the desired hair-free skin because the skin contains multiple hair follicles, and dormant hair follicles may grow to begin between the sessions. So, follow-up sessions are required to treat newly active follicles.
Benefits of laser hair removal treatment over electrolysis:
Laser hair removal treatment covers larger surface areas because the lasers come in different head sizes and emit pulses of light every second. Hence it is a quick, fast, and efficient method as compared to electrolysis.
Another benefit of laser hair removal treatment is that one can shave in-between the treatments, and it also works well for short hair. The target of laser hair treatment is melanin of the hair roots. The treatment also targets the ingrown hair and is effective against any skin and hair type because the laser equipment has a different wavelength and light frequency to treat dark skin and very fine hair.
Laser hair removal procedure does not cause any pain as a cooling gel is applied to the targeted surface before the treatment. It feels like a rubber band hitting the skin with a heat sensation, and the pain is minimal. The electrolysis method works by inserting an epilator device into the skin. It is a painful treatment as compared to laser hair removal treatment. Electrolysis treatment removes individual hair from the body that causes a lot of pain. In this process, a fine probe is inserted into the body, and then hair follicles are removed through tweezers. This procedure takes more time compared to laser hair removal treatment.
Electrolysis treatment may take 30-60 minutes, whereas laser hair removal treatment is a quick procedure for hair removal and will need only 10-15 minutes. Electrolysis sessions are longer and time-consuming. After the electrolysis procedure, an individual has to apply antibacterial cream. The targeted area must not be touched or scratched.
The side effects of electrolysis treatment are swelling, redness, more ingrown hair, scabbing, skin drying, and inflammation. The side effects of laser hair removal treatment include pink skin, swelling, and redness. Another major drawback of the electrolysis method is that it can't be done for a large body surface area, and it also sometimes leads to scar formation.
Laser hair removal requires fewer sessions than electrolysis. Laser hair removal usually takes about 4 to 8 sessions for best results. For electrolysis, an individual must undergo 30 sessions on the target area where the hair is coarse. Laser hair removal treatment requires a follow-up session once a year.
Laser hair removal is very accurate in the target areas, and it only targets the hair without damaging the surrounding area. The laser hair removal device is adjusted according to the thickness, skin color, hair color, and location of the hair. To observe the optimum results, an individual must follow a proper aftercare treatment routine. Individuals must limit sun exposure for a few weeks and wear loose clothes for some days after the treatment.
The electrolysis method is only effective for removing small hair–like around the eye region. But the laser hair removal method can be performed on any parts of the body like the face, chin, upper lips, forehead, chest, back, underarms, thighs, etc.
Dermaworld Skin & Hair Clinics is a world-class center in providing laser and aesthetic skincare treatments in Delhi. At Dermaworld Clinics, the team of top dermatologists and laser experts provide the best treatment results to their clients using medical-grade lasers and the most advanced technology. The clinic provides laser treatment for all skin and hair types using the most advanced lasers at an affordable price.
Before choosing any procedure, make sure that the procedure is performed by an expert. Laser hair reduction is a medical procedure that must be performed under the guidance of an expert dermatologist. Dermaworld Skin & Hair Clinics is one of the trusted clinics that provides the best laser hair removal treatment in Delhi. The clinic uses Alma Soprano Ice Platinum lasers featured with trio clustered technology. This laser also combines three wavelengths into a single innovative hand piece for achieving safe and comprehensive hair removal results. This treatment is also suitable for many skin types, including even darker skin types.
Dermaworld Skin & Hair Clinics follow all the measures and methods to protect the skin and ensure the best possible results. The clinic uses the gold-standard FDA approved technology to provide the best results.
Dermaworld Skin & Hair Clinics is one of the trusted clinics for laser treatments that delivers the best treatments. For more information about laser hair removal treatment, visit today!
Book Your Appointment Now!