Laser Hair Reduction: Benefits, Side Effects, and Cost
Posted by Dermaworld
10 February 2020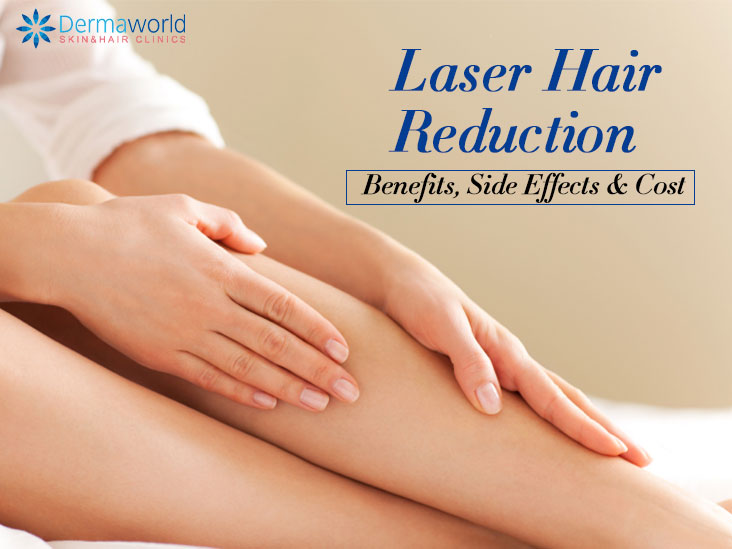 Although shaving, waxing, and tweezing might be quick solutions to get rid of unwanted body hair, they have several disadvantages as well. Traditional methods of hair removal can be incredibly painful, messy, and time-consuming, and they also leave ingrown hair, cause bleeding, rashes, increased sensitivity to sunlight, dry skin, and various other skin problems. For people looking for a longer-lasting solution, Laser Hair Reduction is a good option to consider. The treatment has become one of the most commonly performed cosmetic procedures in the world.
Anybody who wants to get rid of their body hair can simply undergo this procedure and can achieve a smooth hair free skin in just a few sessions. The fact that laser hair reduction provides a long term solution to unwanted body hair makes it easier to always be ready, instead of worrying about getting a last-minute shave or wax before an event or occasion.
This advanced medical treatment procedure requires prior training and knowledge to perform. Hence one must receive treatment from an expert to achieve best and safe results. The laser treatment is not just efficient, but also precise and fast with minimal side effects, and the individual does not have to wait for hair regrowth or worry about ingrown hairs. Dermaworld Skin & Hair Clinics provide advanced laser hair removal solutions in Delhi under the supervision and guidance of Dr. Rohit Batra, the best skin doctor in Delhi, who has extensive experience in cosmetic and clinical dermatology.
Benefits:
• The treatment is a beneficial solution to remove unwanted body hair in the long run.
• The treatment can effectively provide toned and smooth skin without cuts, nicks, stubble, and is also more economical in the long run when compared to the cost of repeated waxing or shaving.
• The procedure is also considerably less painful when compared to regular waxing sessions, and the treatment also saves time, where a few sessions are enough to provide smooth, clear skin in the long run.
Before the treatment, it is also recommended to not wax or tweeze out the hair, since the procedure targets the roots of the hair. It is also recommended to minimize exposure to sunlight for at least six weeks before and after the procedure as it can cause several complications. After completing the procedure, the patient might require ice packs, cold compression, or anti-inflammatory creams or lotions to help manage discomfort.
Cost:
The cost of laser hair reduction depends on several factors, which include the location and size of the target area to be treated, the duration of the procedure, the total number of sessions required. Furthermore, the cost of the procedure also depends on the machine used for the treatment.
At Dermaworld Skin & Hair Clinics, the most advanced Alma Soprano ICE laser hair reduction system is used that allows treating a wide array of candidates and hair types painlessly and quickly. The procedure has a proven safety record, works with all skin types, including tanned skin virtually painlessly. The Alma Soprano ICE is an award-winning revolutionary device for laser hair reduction that works on SHR technology. The device has a multiple wavelength platform with pre-set parameters, is FDA approved and clinically proven, providing cool and fast treatment. For more information and consultation regarding laser hair reduction procedure, book an appointment with Dermaworld Skin & Hair Clinics today and experience advanced skin solutions with professional care.
Book Your Appointment Now!