5 Tips to Care for Your Skin after Laser Hair Removal
Posted by Dermaworld
26 May 2020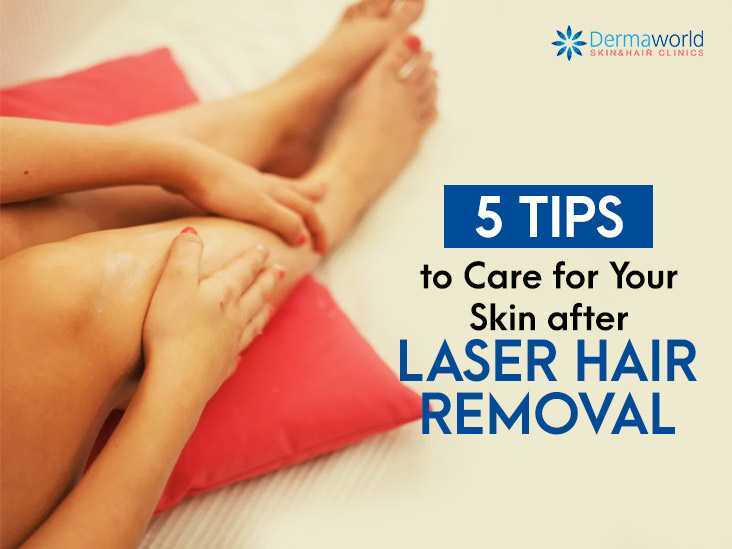 Many people opt for the most trending and advanced laser method to remove unwanted hair. Laser hair removal method removes dark, coarse unwanted hair from various parts of the body, and there is no more risk of ingrown hair, razor cuts, and skin irritation with this treatment. During the treatment, the laser beam passes through the skin and damages the hair follicles and prevents future hair growth. The procedure is popular because it selectively targets certain areas where unwanted hair are present and leaves the surrounding area undamaged.
With every medical aesthetic treatment, one must always take certain steps to protect the treated area.
Following are the top five skin tips that one must follow after laser hair removal treatment so that the treated area heals quickly and completely:
1. Apply cool packs, ice, and aloe vera to numb the treated area:
After the laser treatment, one may feel minor discomfort like sunburn and pain in the treated area. The area becomes swollen and red after treatment, and the application of ice, cold packs and aloe vera gel helps to ease this pain experienced after treatment. Wrap ice in a towel and apply this pack to the skin. Do an ice massage over the treated area for about 10-15 minutes for about 3-4 times in a day until the discomfort is gone. Do not apply the ice pack for too long, as this will restrict the blood flow and will slow the healing process. Aloe vera gel reduces the skin discomfort and is absorbed by the skin and repeat this process 2-3 times in a day until the swelling and redness is gone.
2. Protect the skin immediately following hair removal treatment:
Factors like sunlight, sweat, and dust can irritate the treated area and will make the redness worse. The best way to prevent this is to protect the treated area from direct sunlight and avoid going to dusty areas and always cover the treated area from direct sunlight. If the laser has treated the face area, then wear a hat to provide sun protection. Always apply sunscreen, avoid sun for eight weeks and tanning from artificial UV sources. Hot baths and showers can increase the heat to the treated area, so they must be also be avoided for best results.
3. Wear loose clothing and avoid application of harsh skin products:
Wearing loose clothes help to avoid rubbing and irritation to the treated area. Wearing loose t-shirts, maxi dress, and pair of baggy track pants help to keep the skin breathable, happy, and comfortable after treatment. The application of makeup can make the skin irritated. Hence it is advised to avoid their use until the redness has disappeared.
4. Take cool showers:
Hot water can cause blistering and burning of the skin. Hence it is a good idea to take cold showers after the laser hair removal treatment. Do not use hot heating pads on the treated area as it can cause redness and irritation on the skin.
5. Apply moisturizer specially designed for sensitive skin:
After laser hair removal treatment, the skin becomes more sensitive than normal. During the healing period, the skin becomes completely dry, especially when it heals. Hence, apply a moisturize especially designed for sensitive skin, because dry skin can cause further irritation. Therefore, after the initial treatment, one must apply moisturizer 2-3 times in a day or as needed. Apply it gently, and do not irritate the treated area by rubbing it too vigorously. Always use a non-comodogenic moisturizer; this helps to keep the pores clear and also promotes healing.
Until the redness has completely subsided, one also must avoid the following:
• Do not use scented lotions, soaps, and creams.
• Avoid swimming in swimming pools, spas, and hot bathtubs.
• Do not perform activities that cause excessive perspiration.
• Do not perform waxing, tweezing and epilating after and during laser treatment
• One must also avoid undergoing other skin treatments on the treated area until it is completely healed, as it can cause unpleasant side effects like blisters.
At Dermaworld Skin & Hair Clinics, expert dermatologist conducts a thorough analysis of the skin and provides with a safe customized plan that is suitable according to an individual's skin type, and helps to achieve safe and best results. To know more about this treatment, contact at +91 9911100050 or info@laserhairremovaldelhi.com.
Book Your Appointment Now!