FAQs About Laser Toning
Posted by Dermaworld
07 September 2019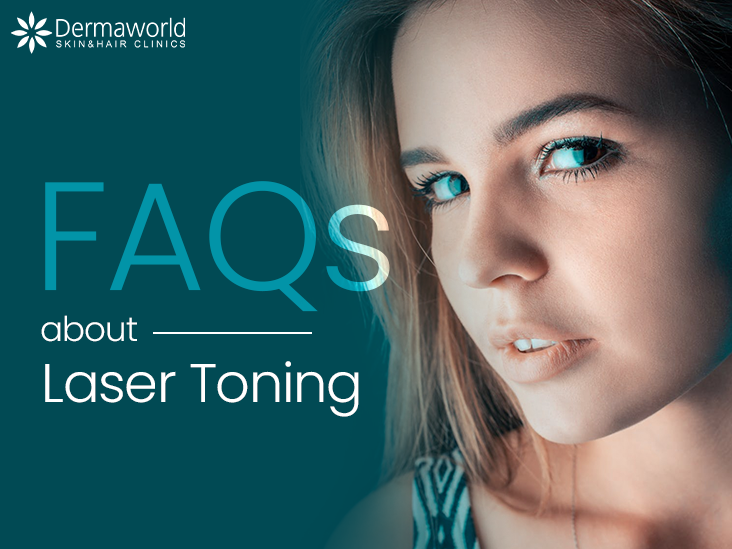 A good skincare routine is essential for healthy and beautiful skin. But sometimes, one might need to seek the help of advanced cosmetic treatments if the skincare regimen is not helping them to achieve clear and smooth skin. Laser treatments have become hugely popular since the past few decades for cosmetic procedures. Laser Toning is one such procedure which utilizes laser light to break down and reduce the excessive pigmentation while stimulating the deep layers of the skin to produce collagen. With repeated sessions of laser toning, one can get an evenly toned skin with increased elasticity. Laser Toning is not just limited for facial treatment but it can also be performed for removing pigmentation from certain areas of the body.
There are many questions which are frequently asked about Laser Toning by people who are interested in undergoing Laser Toning treatment. Here are the answers to some of the frequently asked questions.
What is Laser Toning?
Laser toning is a cosmetic procedure to gently rejuvenate the skin by targeting the pigment cells lying beneath the skin layer along with increasing the collagen and elastin production to fight the signs of ageing. This procedure is performed by non-ablative laser thus it does no damage to the surface of the skin.
Who should opt for Laser Toning?
Anybody who has the following skin problems can opt for this treatment.
• Age spots
• Melasma
• Freckles
• Post-inflammatory hyperpigmentation
• Birthmarks
• Blemishes
• Spider veins
• Saggy skin
• Fine lines and wrinkles
• Dark circles
• Uneven skin colour and texture
• Vascular Lesions
• Rosacea and redness
• Dark lips
How many sessions are needed for Laser Toning?
Although the patient would be able to notice the results after the first session, laser toning is a gradual process. Generally, three to four sessions once every three to four weeks would deliver optimal results to the patient. Many patients who want to maintain the results also visit the clinic after every two-three months.
How much time is required for Laser Toning?
The laser toning treatment does not take much time. However, the duration of the treatment depends upon the area to be treated. If a person wants treatment over specific areas, then the treatment generally takes about 30-45 minutes while a full face laser toning may take up to 2 hours.
What are the precautions to be taken after Laser Toning?
Any individual who wants to opt for laser toning must follow the following guidelines.
Limit sun exposure: Step out in the sun only after applying sunscreen of at least SPF 30 as the UV rays might cause irritation and redness over the treated area.
Avoid scrubbing: The skin takes some time to heal so one should not rub, scratch or pick the treated area. Use mild cleansers and refrain from harsh exfoliators for a few days after the treatment.
Apply Icepacks: A person might feel a tingling sensation or slight redness after the treatment thus, icepacks will help to soothe the skin.
Are there any side effects of Laser Toning?
Mild swelling or bruising is common but it tends to go away on its own after some time. However, one can resume their day-to-day activities after getting the treatment. Even, one can apply makeup after the treatment as it does not damage the skin.
What results can one expect after treatment?
Laser Toning results in evenly textured, soft and plump skin with reduced appearance of fine lines and freckles, brown spots, eye bags, enlarged pores and redness. The treatments also provide a rejuvenated, renewed and radiant complexion after the treatment.
With regular Laser Toning treatment, one can experience a drastic transformation in their skin. People who feel self-conscious due to pigmentation or other skin concerns can opt for this treatment and regain their self-confidence. Also, it is a quick and safe treatment with no downtime which makes it a viable treatment for working professionals. For clear, healthy and glowing skin in no time, opt for Laser Toning!
Laser Toning treatment is highly effective for the skin but it must be performed at the well-trusted and certified clinic. At Dermaworld Skin and Hair Clinic, the laser treatments are performed by trained professionals. Laser Toning is performed under the guidance of a board-certified skin specialist, Dr. Rohit Batra. The clinic has the latest laser technology to perform Laser Toning so that the patient does not experience any discomfort while undergoing the treatment.
Book Your Appointment Now!